I've decided to check out Twitter - I'm @jjmcvey.
Btw,
the offending photo
is: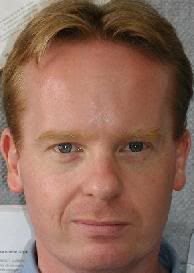 The scar was caused by my boss's dog biting my face while I was trying to feed him, about three years ago.
When I set up this blog I was reluctant to upload it for fairly obvious reasons, but I figured that since I've had that photo up on ObjectivismOnline for years now it might as well stay in place for my general online presence until I get a new one done.
JJM